Indian Hills Elementary Library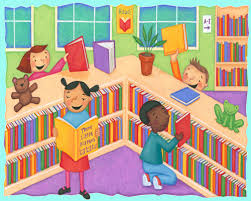 Schedule:
(Parents: Your child will come to library with his/her homeroom teacher.)
Wednesday - Scruggs, Milligan, Combs, Koehler, MacDowell, Adams
Thursday - Johns, Scroggins, Leek, Everett, Waldron, Cornell, Huddleston
Friday - Rodgers, Fincham, Crider, Baker, Farlow, Faulkner, Turner
---
Check-Out Policy:
Kindergarten through First Grade are allowed to check out 1 book each week. The book is due the next time the child comes to library. They will keep their book in their homeroom class.
Second Grade through Sixth Grade are allowed to check out 2 books each week. The books are due the next time the child comes to library. Students are allowed to renew their book(s) for one extra week.
---
Lost or Damaged Books:
Reading is fun and so is checking out books and taking them home to read, but it is also a privilege and with privilege comes responsibility.
If books are lost or damaged, it is the responsibility of the child's guardian to reimburse the school for the cost of replacing the book. We purchase library-bound books to withstand extra wear and tear of the book; therefore, the cost of such books are usually more than what you would purchase from a store or online vendor.
We greatly appreciate your support of our school library. Once payment is received, your child will be able to check-out library books again. Thank you.
____________________________________________________________________
Disclaimer
"If you have any questions or concerns about content on this page, please call the school for more information."